OptiFlex S
Shoulder CPM
Designed to provide anatomical motion for the shoulder. Addresses full range of motion capabilities.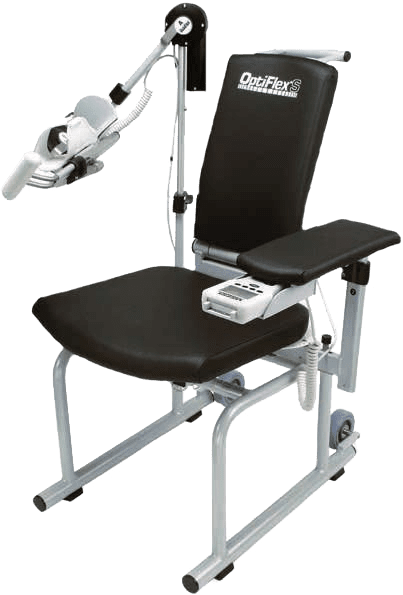 MOBILITY IN MOTION
---
The OptiFlex S is easy-to-use and simple to program. In the past, shoulder CPM's were hard to adjust and often impossible for the savviest of clinicians to understand. Many practitioners were afraid of imprecise movements that could totally reverse the effects of surgery. The OptiFlex S is truly different. It features such technology as the OptiCard™ chip card, which stores a patient's individual treatment parameters, and an easy-to-read digital display that shows adduction/abduction and internal/external rotation in a clear and concise way. Punctuate those technological advances with precise anatomical motion. This high quality is not just for looks or "feel", it promises smooth movements that maintain natural alignment, working the shoulder gently to encourage healing. It also has a sleek design that actually folds for storage or transport.
You will truly have to see the OptiFlex S to believe the difference!
Easy-to-use hand control for storing treatment data on memory chip card

 

Fully synchronized motors allow treatment parameters to be customized to meet patient's specific therapy protocols

 

Ergonomic rest for healthy arm and fully adjustable chair

 

Patented Universal left/right Shoulder design

 

Folds easily for transport/shipping

 

Includes patient data card and erasable pen

 

Lightweight design weighs 55 lbs (25 kg)

 
Functions 

OptiFlex S™ Shoulder CPM 

Motor Control 

On/Off 

Pause 

0 – 30 sec. 

Speed 

0 – 100% 

Timer 

1 – 300 min. 

Warm-up Mode 

50% of programmed ROM 

Synchronization 

On/Off 

Reverse-on-load 

1 – 20 

Therapy Run Time 

h : m 

Patient Data Storage